IMPORTANT NOTICE - COVID-19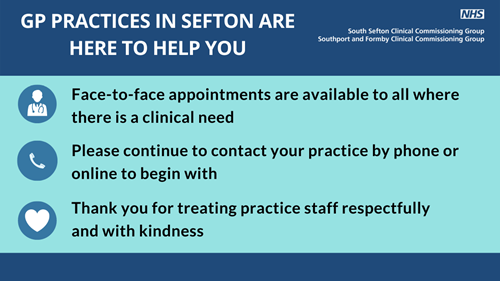 We are still open and here for you. We are continuing to provide services as we have been doing throughout the COVID-19 pandemic. We are prioritising delivering of care and services based on clinical needs.
The surgery doors have re-opened and we are now offering face to face and telephone consultations with all of our clinical staff. 
Everyone accessing or visiting healthcare facilities must continue to wear a face covering and follow social distancing rules, COVID restrictions ending in many other settings in England from 19 July.
Please do not attend the surgery if you have symptoms of COVID-19 or are self-isolating unless instructed to do so by a clinician. 
You will be contacted by the National Booking system for your Covid-19 Booster Vaccination. We are unable to book this for you at the surgery. Patient's should be contacted around 180 days following their second dose. If you have any queries, please contact 119.
Blood tests during the pandemic - New online booking system www.merseycare.nhs.uk/mybloodtest