Fit Note Information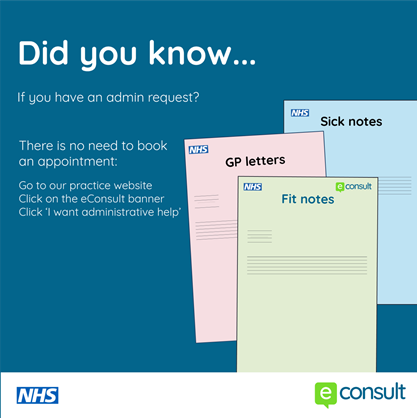 For ongoing Med3 certificates you do not need a GP appointment.
You can submit an electronic request by submitting an administration e-consult from 7.00am or call into the surgery and fill out a sick note request form. Please note, we will not take sick note requests over the phone. 
You do not require a doctor's sickness certificate for any illness lasting seven days or less. Your employer may, however, may require you to complete a self-certification form SC1 which is available to download via this HMRC Website.
Doctors Med3 Fit Note
If you have been off work sick for more than 7 days and require a Doctor's sick note, you will need to be reviewed by a GP.
The quickest and easiest way is to submit an e-consult . The Doctor can review your online consultation and decide if you need to be reviewed face to face or if a note can be issued based on the information provided, 
Statement of Fitness for Work - 'Fit Note'
The 'fit note' was introduced on 6 April 2010. With your employer's support, the note may help you return to work sooner by providing more information about the effects of your illness or injury.